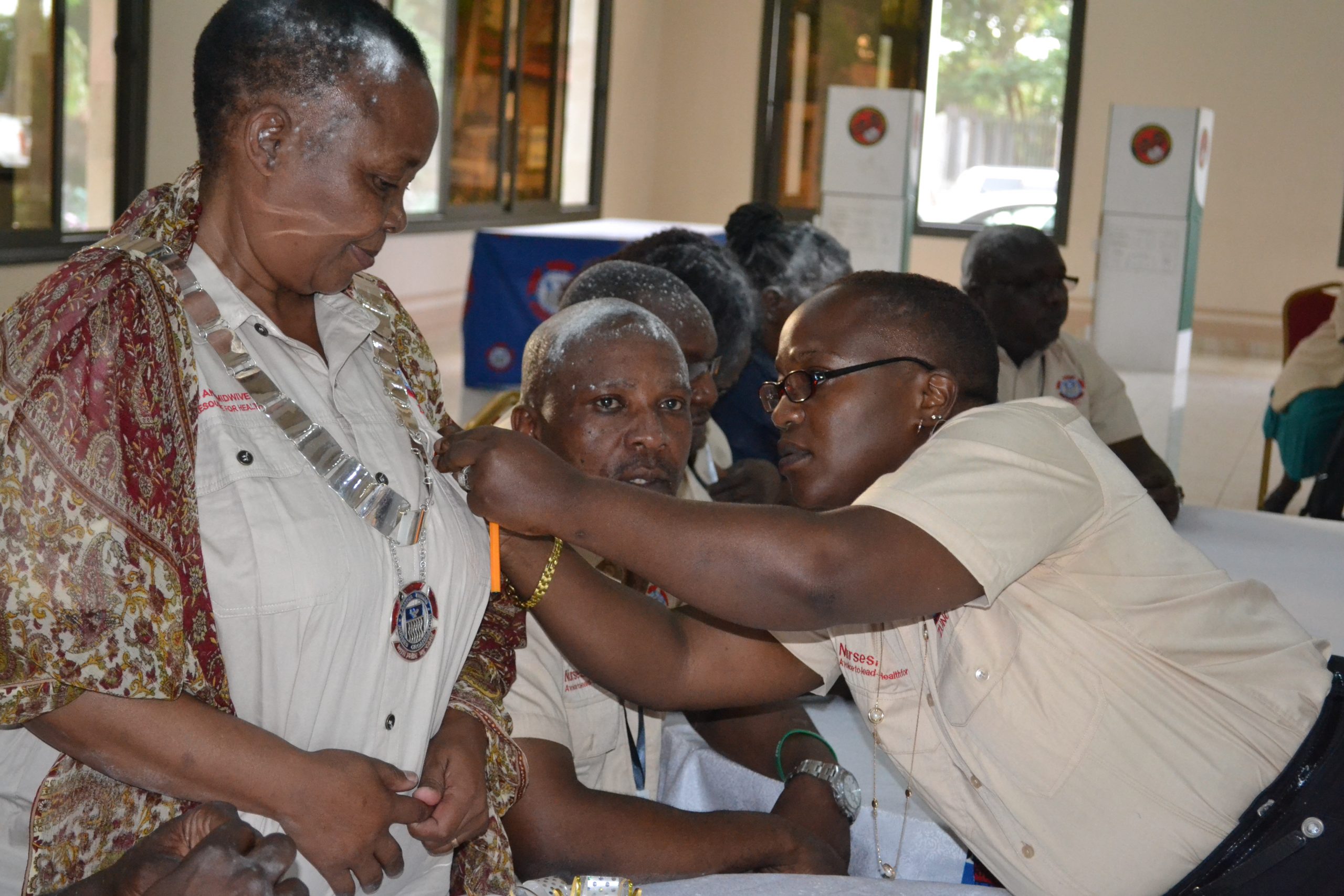 ZUNO successfully held its 3rd Quadrennial Conference and 57th National Assembly on 12 and 13 December 2019 at Andrews Motel in Lusaka where an initial nine (09) member National Executive Committee (NEC) was ushered into office to serve for four (04) years.Two (02) National Trustees will be appointed by the new NEC in accordance with the ZUNO Constitution thereby forming a full eleven member NEC.

Minister of Labour and Social Security Hon. Joyce Simukoko graced the event that was held under the theme Nurses and Midwives: A Voice to Lead through Quality Healthcare.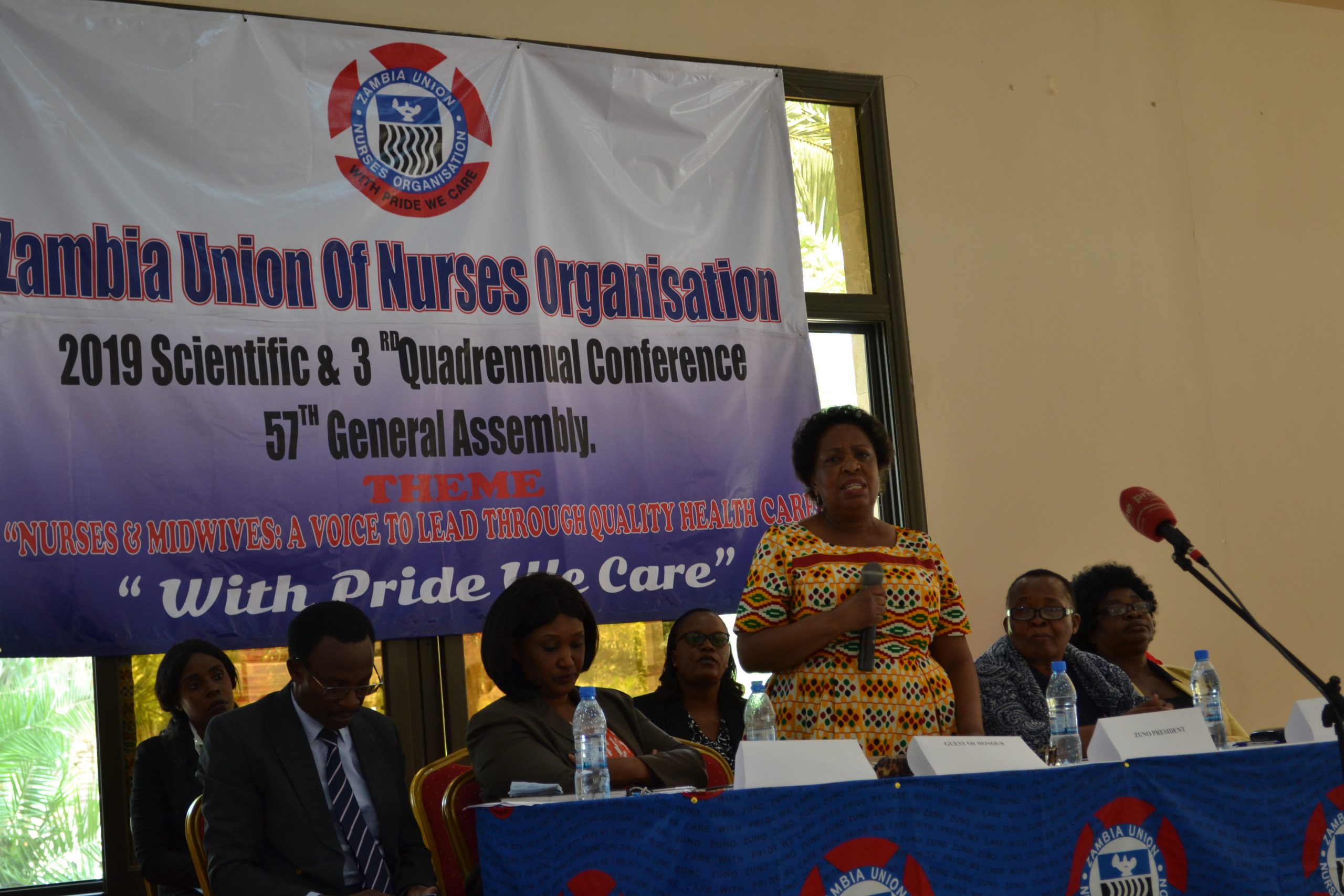 In addressing over 200 delegates who were in attendance from across Zambia, the minister stated that the nursing and midwifery profession needs a trade union leadership that is vibrant, selfless and innovative in order to help address the challenges in the health sector.

She commended ZUNO for the role it continues to play in the striving to improve members' welfare and implored ZUNO to intensify worker education activities stating that not all members understand the recognition and collective agreements signed between ZUNO and employers.

The minister further applauded ZUNO for adhering to the provisions enshrined in the Industrial and Labour Relations Act Cap 269 of the laws of Zambia, and observing the provisions of the ZUNO Constitution.

Speaking earlier Zambia Congress of Trade Unions Deputy Secretary General, Mr Elaston Njovu pledged continued support to the union, and urged ZUNO to continue working closely with relevant stakeholders in pursuit of its mandate.
And ZUNO President Mrs Tisa Chiponda noted that enhancing human development comes from having a healthy population adding that there is a strong link between health and socio-economic progress.
ZUNO NEC 2020- 2023
During the two day conference Mrs. Tisa Chiponda was re-elected as ZUNO President, a position which she held for over a year after taking over from Mr Liseli Sitali.
Other elected National Executive Council Members were;
Mr. Golden Mtonga-Vice President Professional Affairs (Formerly Eastern Province Chairperson)
Mr Martin Muloongo-Vice President Labour Affairs (Formerly Deputy General Secretary Operations & Organisation)
Mr. Fray Michelo- General Secretary (retained position),
Mr. Alfred Mulenga -Deputy General Secretary Operations & Organisation (From Northern Province)
Mr. Ernest Mumba- General Secretary for Finance and Administration (formerly Copperbelt Province Chairperson)
Ms Grace Mwandila- National Chairperson Gender Affairs- (from Lusaka Trust hospital) National Trustees Mrs Judith Kaingu (retained position) and Mr Gibson Kabombo (formerly Southern Province Chairperson).
https://zuno.org.zm/wp-content/uploads/2020/05/03-scaled.jpg
1707
2560
ZUNO Admin
http://zuno.org.zm/wp-content/uploads/2017/07/logo-300x83.gif
ZUNO Admin
2019-12-14 12:54:54
2020-08-11 10:22:29
ZUNO Successfully Holds 3rd Quadrennial Conference and 57th National Assembly Ushering in New NEC